Meet Our Guides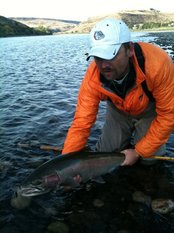 Joe Roope - Idaho Joe
I've been fishing for over 35 years and began guiding in high school. Opened the shop in 1981 as an excuse to teach my passion for the sport of fly fishing to the masses.
Favorite Fish: Anything with a pulse
When asked his favorite rod and reel: "The rod in my hand at the time."
Favorite River: Coeur d'Alene River because I learned how to fish there and the quality of fishing is through the roof. Its an easy river to access. There are multitudes of fish with the big fish increment.
My first catch was after five days of fishing, wet-wading on the CDA River at 11 years old with my dad. I've never been so cold in all my life. I'll never forget my first fish.

---
---
Steve Seymour - "Mouth" as Joe likes to call him because he's either too quite or won't stop talking.
I've been fishing in the area for 40+ years and fly fishing northern Idaho waters for 30+ years; employed as a fishing guide for Joe for the last 18 years.
My favorite fish is the Westslope cutthroat. My favorite rivers are the Coeur d'Alene and St. Joe.
The Loop Opti Stream matched with an Evotec real is my favorite fishing combo; when guiding, I prefer the Evotec in 5 and 6 wts. I just returned from the Missouri River and was really impressed with the performance of my new Cross 5 wt. Clients continue to be impressed with the lineup of Loop products I put in their hands.
Funny Fishing Story: I particularly like the story where the fishing guide bumps a rock with the drift boat, and the fishing guide's outfitter falls out of the back of the boat. I think it's a parable or something.
I guide for Joe because you never quite know what's going to happen from one day to the next. Where most guides try to "think outside the box," Joe kind of lives outside the box.
There is no other fly shop in the area with someone like Joe behind the counter. His knowledge is encyclopedic: history of fly fishing, materials, fly tying, food trucks, buffalo wings etc.
When I'm not fishing I am a high school English teacher nine months of the year.
---
---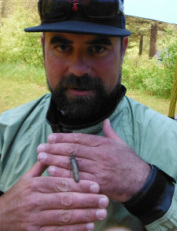 Dustin Ainsworth - 'D'
I've been fishing Idaho waters since 1993 (when i moved here) I have been guiding for Castaway Fly Fishing Shop for nearly 4 years now.
My favorite fish: Trout! Rainbow, Brown, Cutthroat and Bull
Where to catch them: any river that is accessible. The CdA and St Joe are my favorites for Cutthroat and the Missouri in Montana is my favorite for BIG Rainbows and Brown Trout. The others are a secret :)
Minus the couple my dad made years ago, I am 100% a Loop Fly Rod fan. My favorite model is the Incite 5weight with XACT 2/6 reel. Every trip down the river usually has its classic moments that will always be remembered.
Why Joe: Well I have a long history with Joe and he is almost like a father figure. The man is a genius when it comes to fooling fish with his tactics.
You cannot argue with experience and Castaway has it for local rivers like the CdA. I believe Joe was the only for many years to have a guide license on that river.
When I am not fishing: I play a lot of golf and compete locally on an amateur level. There are a lot of similarities in both sports that can be beneficial, especially when teaching new clients how to cast and working on their tempo!
---
---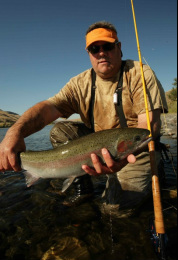 Richard Mucciaccio - King
I have been fishing this area since 1993 guiding since 2007. During the off season I also guide in Baja Mexico saltwater fly fishing.
I love the St. Joe and Coeur d'Alene rivers for the challenge of western cutthroat trout. The peace and solitude of these areas allows for us to escape from life in the fast lane and just reflect on what Mother Nature has to offer us. Each day on the waters she paints a new picture on every corner of the river.
I currently fish with Loop Products on the rivers and on the salt, I truly believe it is the finest equipment an angler from novice to experienced can cast and feel comfortable in reliable gear. I have used rods and reels from 3# weight to 12# weight rods from small trout to large billfish and have never let myself or my clients down. I feel that the gear on the low end of the price range are just as good as there highest price range gear. As for Loop's entry level gear, this to me is superior to most manufacturers because you will use it all your life.
Joe Roope is a legend in his own. I enjoy working for Joe because of his local knowledge of our rivers, fly tying and techniques for fishing. What he has taught me can never be learned from a book. If you don't know Joe stop by the shop and stir up a conversation with him and see for yourself.
Castaway fly shop offers that down home feeling from the fireplace and old wooden floors; it is just inviting. The shop holds some interesting items for sale, so be prepared because anything is up for grabs. The shop offers custom cut fly lines to tying materials all with a local legend sitting at the tying bench, there is something for everyone.
On my off time between guiding our local waters or guiding in the Baja, I enjoy my family. My wife and I have three children all grown, married and starting there chapters in life. We are blessed with five grand children and enjoy every available second we can with them. I enjoy the Gonzaga Bulldogs sports and watch them all as often as is allowed.
---